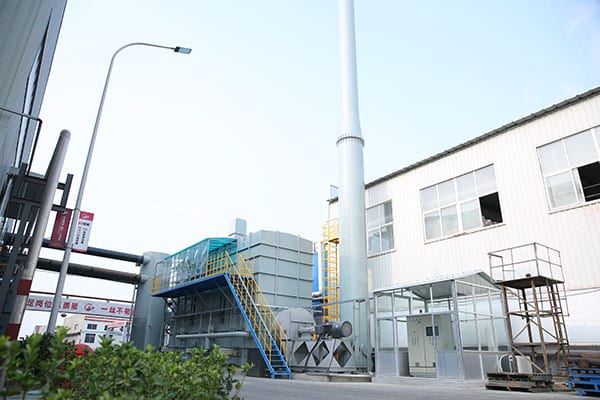 Hongyuan Waterproof was founded in 1996 and now develops into a professional waterproof systems provider integrating R&D, production and sales and construction serves as well as an assembly building industry base and a leader of China waterproof industry.
At present, Hongyuan Waterproof governs five production bases that are respectively located in Shandong, Sichuan, Jiangsu, Jilin and Guangdong. Also, the company sets up nine operation centers that are located in Beijing, Shanghai, Guangdong and Chengdu etc. and establishes offices in all cities of county level or higher across China. Until now, Hongyuan Waterproof has conducted close cooperation with about 300 agents and more than 1000 franchised dealers and after-sales services.
The company possesses 62 modern waterproof material production lines with an annual output of 290 million square meters of waterproof membranes.
And an annual output of 290 thousand tons of coatings. There are 100 plus varieties of products in 8 series that are widely used in many fields such as railway, bridges, municipal utilities, civil constructions, manufacturing industry and military industry and can meet most functional needs of the above fields.
Compared with rivals of the industry, Hongyuan Waterproof possesses a complete set of product systems with many products having their own advantages. Hongyuan Waterproof also focuses on environmental protection while producing excellent products. In 2013, Hongyuan Waterproof joined with China Academy of Building Research to successfully develop "fume purification equipment for production of bituminous waterproof membrane". Since its development, the waste gas treatment technology for the modified bituminous waterproof membrane production line has been widely applied in many domestic large and medium-size waterproof enterprises. In Dec. 2014, the technology was awarded The First Prize of Technical Advance in Building Waterproof Industry. In May 2015, the technology was assessed as Scientific Result Award by Ministry of Housing and Urban-Rural Development of China.
At present, Hongyuan Waterproof participated in preparation of national standards and industrial standards for more than 50 waterproof materials and more than 90% of Hongyuan products are made with domestically advanced technology and sold to 57 countries and regions such as USA, Canada, Japan, UK, Australia, New Zealand, Brazil, Chile, Malaysia, India, Nigeria and Congo.
The company was certified by China Building Materials Test and Certification (CTC) and assessed as a four-star after-sales service provider. Also, the company was awarded may honors such as Golden Prize of China Building Waterproof Industry, Famous Brand of China Building Waterproof Industry, Quality Award of All-China Waterproof Industry, Leader of China Building Waterproof Industry and Top 5 of China Real Estate Suppliers for Comprehensive Service Power. To provide excellent services and products, our company has employed three China Roof Waterproofing Masters.
The company invested 20 plus million Yuan to construct Shandong Research and Development Center and Jiangsu Research and Development Center and conducted long-term cooperation with many domestic famous institutes such as Suzhou Waterproof Research Institute of China Building Materials Academy and Building Material Research Institute of China Academy of Building Research and set up a Research and Development Application Center, a Technology and Equipment Center and a Technology and Equipment Test Base to provide technical support for R&D, technical innovation and brand building. The Research and Development Centers in the three production bases located in Shandong, Jiangsu and Jilin are certified to be Standardization Laboratory. In Dec. 2014, Hongyuan Waterproof joined with Mikhaylov, an academician of Russian Academy of Natural Sciences, and Russian Academy of Engineering, to establish Working Station of Foreign Academician, which leads the international cooperation of advanced technology in the world.
With the advanced technology and equipment, we have been focused on technical innovation and technical research for over 20 years and completed tens of thousands of top quality projects. In 2015, Shandong Province Museum New Museum and Jining Fangyuan Residential District Car Garage completed by Hongyuan Waterproof were awarded Golden and Silver Prizes of Jinyu Award that is reputed as Oscar Award in China Building Industry. In 2016, Weifang Vanda Plaza completed by Hongyuan Waterproof was awarded Golden Prize of Jinyu Award and in 2017, Weifang Cultural Art Center completed by Hongyuan Waterproof was awarded Golden Prize of Jinyu Award again.
In 2016, the group set up an environmental protection type waterproof material project with annual output of 45 million square meters in the Shandong Production base, which is estimated to be invested with 280 million Yuan. The project occupies a total land area of 60 plus thousand square meters and can help realize the annual sales revenue of 360 million Yuan. This is another action for Hongyuan Waterproof to take the road of "Environmental protection, energy saving and sustainable development". In addition, Guangdong Production Base was put into operation in May, 2017, which further improved the production capacity and product quality.
Over 20 years, Hongyuan Waterproof always adheres to the philosophy of "integrity and quality are the foundation of development" to reach strategic cooperation with many famous enterprises, rail transport organizations and high-speed railway organizations.
At present, Hongyuan Waterproof is a professional waterproof system provider that possesses complete product varieties, large production scale and large sales capacity in domestic market. Due to strong comprehensive power, Hongyuan Waterproof has a good share of market at home and abroad.